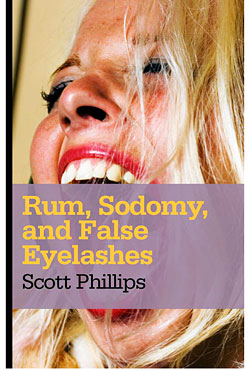 Published by Concord Free Press 2010.
One night you're walking past an old hotel, a run-down place you see every day. You thought it was abandoned but inside it looks like there's a party going on. Lots of drugs—fast, slow, deadly. Plenty of sex—good, bad, funny. And firearms? Yes lots of guns. The doors to all the rooms are open—there's a frisky LA waitress in one, the Eggman in another, Babs the dancer is there, plus plenty of cranky old people, and a dead cat or two. Are you walking into a funhouse or madhouse?
You've stumbled into the world of Scott Phillips and Rum, Sodomy, and False Eyelashes—an inventive and wildly creative collection of twelve stories from one of America's most original writers. Phillips isn't out to impress—doesn't have to. He's here to entertain, to provoke, and to send you into painful fits of laughter and self-recognition. Prepare yourself.
Scott Phillips is the author of many novels, including The Ice Harvest, The Walkway, Cottonwood, The Adjustment, Nocturne le Vendredi, and Rut (published by Concord ePress).